Return to the gallery home page.
Spectabile falcapterus
("remarkable" "scythe-wing")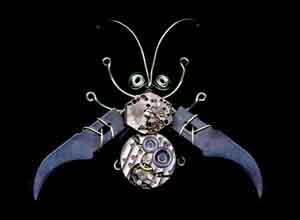 Click to zoom in.
Specimen #01107, 7/8/2000
Wingspan: 3.5 inches (9 cm)
Composition: Sterling silver wire, steel utility blades, Swiss watch mechanisms
Comments: The wings are darker in reality, a dark blue sheen on the steel. The circular watch body says "3ADJ GLYCINE W.C. SWISS" and "18 JEWELS". Those three visible red gems are quite striking.