Return to the gallery home page.
Caeruleum bellica
("cerulean blue" "beautiful")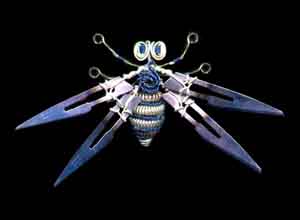 Click to zoom in.
Specimen #01116, 9/20/2000
Wingspan: 3.5 inches (9 cm)
Composition: Sterling silver wire, blue niobium wire, #11 surgical steel scalpel blades
Comments: Torchwork for the blue on the wings. In a way, I really didn't want to sell this one... but, I'd rather my specimens be with other people than crowded here in my own home.