Return to the gallery home page.
Infuscaurum exilis
("blackened gold" "slender")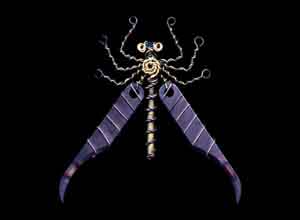 Click to zoom in.
Specimen #01117, 9/29/2000
Wingspan: 5 inches (12.5 cm) outspread
Composition: 12 karat gold filled wire, blackened sterling silver wire, steel utility blades
Collection site: Techatticup Mine, Nevada
Comments: The blue of the wings is variable, depending on the light and angle. As with my other pieces, the color was achieved via careful torchwork. The only area of the wings untouched by the flame is the whitish stripe towards the tips.