Return to the gallery home page.
Sanguinarius corolla
("bloodthirsty" "little crown")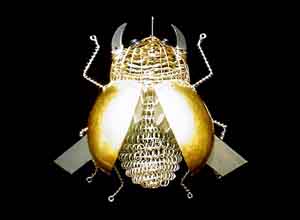 Click to zoom in.
Specimen #01126, 4/22/2001
Wingspan: 4.5 inches
Composition: 12 karat gold filled wire, sterling silver wire, blue niobium wire, stainless steel scalpel blades, steel utility blades, thin plastic wing covers with 23 karat gold leaf
Collection site: Mont-Royal, Montreal
Comments: This sculpture has the dubious distinction of being "Most Injurious To Artist, So Far". The scalpel horns on the face kept snagging me as I tried to work on the eyes. But, as I pointed out to the folks I was making this for, "Like all new kings, this one was baptized in blood". Overdramatic perhaps, but still appropriate. It was worth it.