Return to the gallery home page.
Vespera viridis
("evening prayer" "green")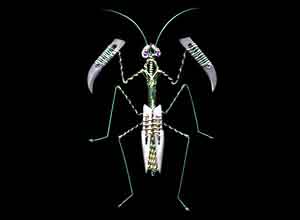 Click to zoom in.
Specimen #01129, 6/14/2001
Length: 5 inches total
Composition: 12 karat gold filled wire, green niobium wire, purple niobium coils, stainless steel scalpel blades
Collection site: Mossy Place, Pennsylvania
Comments: This combination of gold wire and green is truly striking, especially with those violet eyes. The detail on the back of the torso reminds me of a cobra's markings.