Return to the gallery home page.
Falcaluna iridis
("scythe moon" "rainbow")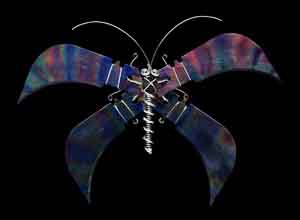 Click to zoom in.
Specimen #01130, 5/28/2001
Wingspan: 8 inches
Composition: Sterling silver wire, black copper wire, steel linoleum knife blades
Collection site: Mare Tranquilis
Comments: I used a blowtorch to create the iridescence on the carbon steel wings. The intensity is totally dependent on the light and the viewing angle. This is my largest insect sculpture, to date.